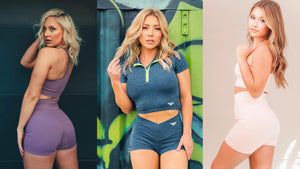 Embrace Comfort and Style with Athletic Shorts for Women from Body Phenom
When it comes to your active lifestyle, having the right apparel is key. Whether you're hitting the gym, going for a run, or practicing yoga, the perfect pair of athletic shorts can make all the difference. Body Phenom understands the needs of active women and offers a stunning collection of athletic shorts designed to combine comfort, functionality, and style. Discover the ultimate blend of performance and fashion as we explore Body Phenom's collection of athletic shorts for women.
Unleash Your Performance:
Body Phenom's athletic shorts are crafted with performance in mind. Made from high-quality, moisture-wicking fabrics, these shorts are designed to keep you cool and dry during your most intense workouts. The lightweight and breathable materials allow for unrestricted movement, providing you with the freedom to push your limits. Whether you're engaging in high-impact activities or practicing your favorite yoga poses, Body Phenom's athletic shorts will support your performance every step of the way.
Style That Sets You Apart:
Who says athletic wear can't be stylish? Body Phenom believes that you shouldn't have to compromise on fashion when it comes to your workout gear. Their collection of athletic shorts for women showcases a range of trendy designs, vibrant colors, and flattering cuts. From sleek and streamlined to bold and eye-catching, these shorts are not only functional but also make a fashion statement. Stand out from the crowd and exude confidence as you rock Body Phenom's stylish athletic shorts.
Versatility for Every Activity:
No matter your preferred activity, Body Phenom has the perfect pair of athletic shorts for you. Whether you're into running, cycling, weightlifting, or practicing yoga, their versatile collection has you covered. With options ranging from mid-length to shorter inseams, you can find the ideal length that suits your personal preference and activity level. The thoughtful design features such as elastic waistbands, adjustable drawstrings, and strategically placed pockets add to the convenience and functionality of these shorts.
When it comes to athletic shorts for women, Body Phenom offers a collection that perfectly balances performance, style, and versatility. Elevate your workouts and express your personal style with their carefully designed and curated shorts. Experience the comfort of premium fabrics, the functionality of thoughtful details, and the confidence that comes with looking and feeling great. Embrace the power of athletic shorts that are tailor-made for the active woman and explore Body Phenom's collection of athletic clothes Albuquerque today. Step into your next workout with confidence and style, knowing that you're wearing the best athletic shorts for women from Body Phenom.
---