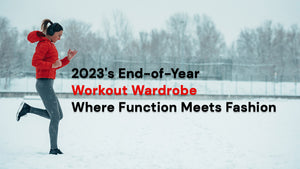 2023's End-of-Year Workout Wardrobe: Where Function Meets Fashion
The last quarter of 2023 is upon us, and if you're dedicated to maintaining an active lifestyle or looking to kickstart your fitness journey, it's essential to dress the part. Workout attire has come a long way, not only in terms of functionality but also in style. To keep you ahead of the game, we've curated a guide on what to wear for workouts in the final months of 2023, ensuring you stay comfortable, confident, and on-trend while breaking a sweat.
**1. Athleisure Sets: Comfort Meets Style
Athleisure is not just a trend; it's a way of life. For a versatile workout wardrobe, invest in matching athleisure sets. These coordinated ensembles seamlessly transition from the gym to the streets, making it a breeze to stay active and run errands without compromising style.
**2. High-Waisted Leggings: Flattering and Functional
High-waisted leggings have been a game-changer in the fitness world. They offer excellent tummy control, a flattering fit, and ample coverage. Look for leggings with moisture-wicking properties and four-way stretch for unrestricted movement.
**3. Performance Crop Tops: Stay Cool and Stylish
Crop tops aren't just for fashion; they're for function too. Performance crop tops provide breathability, allowing you to stay cool during intense workouts. They pair perfectly with high-waisted leggings or shorts for a trendy look.
**4. Reflective Outerwear: Safety in Style
With shorter daylight hours in the last quarter, safety becomes paramount. Opt for workout jackets or vests with reflective elements to enhance visibility during early morning or evening runs or outdoor activities.
**5. Tech-Infused Footwear: The Future of Fitness
2023 is all about the fusion of technology and fitness. Consider investing in smart athletic footwear with built-in sensors that track your performance and provide real-time feedback. It's like having a personal trainer on your feet!
**6. Sustainable Activewear: Eco-Friendly Choices
Eco-conscious choices are not only for your day-to-day wardrobe but also for your workout gear. Brands are increasingly offering sustainable activewear made from recycled materials, reducing their environmental footprint.
**7. Compression Gear: Boost Performance and Recovery
Compression garments are more than a trend; they have proven benefits. They aid in muscle support, reduce muscle soreness, and enhance blood flow, promoting quicker recovery.
**8. Versatile Accessories: From Gym to Out and About
Accessories like sweat-wicking headbands, multifunctional neck gaiters, and stylish gym bags are the finishing touches to your workout look. They keep you comfortable during exercise and provide convenience when you're on the move.
**9. Bold Prints and Colors: Make a Statement
2023 is the year to embrace bold and vibrant prints and colors. Don't shy away from eye-catching patterns and hues that express your personality and energize your workouts.
**10. Personalized Apparel: Your Name, Your Motivation
Customized workout gear is on the rise. Personalize your apparel with your name, favorite quotes, or mantras. It's a motivational touch that can give you that extra push during your training sessions.
Conclusion
As we approach the final quarter of 2023, staying on top of fitness fashion trends can boost your motivation and enhance your performance. Whether you're hitting the gym, going for a run, or practicing yoga, your workout attire can impact your confidence and overall experience. Make the last quarter of 2023 your most stylish and active yet by incorporating these trendy and functional pieces into your workout wardrobe.
---