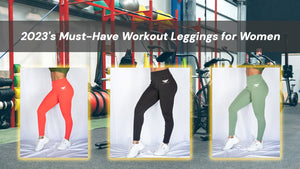 Amplify Your Fitness with 2023's Must-Have Workout Leggings for Women
As we dive deeper into 2023, the world of fitness fashion is buzzing with excitement. The new year brings fresh workout goals and, of course, an updated fitness wardrobe. If you're a fitness enthusiast, you're probably already familiar with the importance of choosing the right workout gear. In this blog, we'll explore a 2023 trend that's taking the fitness world by storm – scrunch leggings for workouts. We'll discuss the benefits of these leggings, and introduce you to our star product, Women's Simple Scrunch Leggings for Workout. Get ready to revolutionize your fitness wardrobe!
The Workout Leggings Revolution
Workout leggings have come a long way from basic black spandex. Today, they're a fashion statement that blends style and functionality. Scrunch leggings, in particular, are all the rage in 2023. These leggings feature a flattering and confidence-boosting scrunch design that accentuates your curves, making them perfect for your fitness journey.
Why Scrunch Leggings for Your 2023 Workouts
Stylish Comfort: Scrunch leggings combine style and comfort, offering a versatile choice for both your workout sessions and everyday activities.

Booty Boost: Achieving that perfect perky look is made easier with scrunch leggings. They enhance your natural curves and give your booty a lift, making you feel more confident.

Stay-Put Design: Say goodbye to constantly adjusting your leggings during workouts. The scrunch design ensures they stay in place, no matter how intense your training gets.

Moisture-Wicking: Many scrunch leggings are made from moisture-wicking materials that keep you dry, no matter how sweaty your workouts become.
Introducing Body Phenom's Women's Simple Scrunch Leggings
Our Simple Scrunch Leggings for Workout are the perfect blend of style and performance. Crafted from high-quality, breathable materials, they're designed to enhance your workout experience. Whether you're hitting the gym, going for a run, or simply running errands, these scrunch leggings are versatile enough for any activity.
Conclusion
As you embrace your fitness goals for 2023, don't forget the power of stylish and functional workout gear. Scrunch leggings are here to stay, and for good reason. They offer style, comfort, and performance in one package. Our Simple Scrunch Leggings are a shining example of this trend, designed to elevate your workouts and boost your confidence. Bid farewell to uncomfortable leggings and make 2023 your year of stylish, successful workouts. Elevate your fitness game with scrunch leggings!
Remember, your fitness journey deserves the best gear, so why not make Scrunch Leggings your choice in 2023? It's time to rock those workouts in style!
---