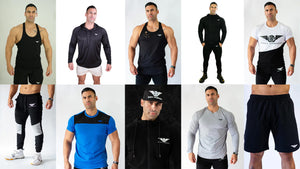 Body Phenom: Elevate Your Workouts with Top-Notch Men's Workout Clothes
When it comes to maximizing your fitness performance and achieving your exercise goals, having the right
workout clothes
is essential. That's where Body Phenom comes in. We are proud to offer a carefully curated selection of top-notch workout clothes for men, designed to enhance your workouts and elevate your fitness journey.
Long Sleeve Hoodie: Embrace comfort and style with our long sleeve hoodies. Crafted from high-quality, breathable fabrics, these hoodies provide the perfect balance of warmth and mobility for your workouts. Whether you're hitting the gym or exercising outdoors, our long sleeve hoodies will keep you cozy and focused on pushing your limits.
Jacket: Conquer the elements with our performance-oriented jackets. Designed to withstand various weather conditions, our jackets offer excellent protection and breathability, allowing you to stay comfortable during outdoor workouts. From wind-resistant features to moisture-wicking capabilities, our jackets are your go-to companion for any weather challenge.
Jogger Pants: Discover the perfect blend of style and functionality with our jogger pants. Engineered for optimal mobility, these pants allow you to move freely without compromising on style. Whether you're running, cycling, or engaging in intense workouts, our jogger pants offer the flexibility and comfort you need.
Tank Top: Stay cool and unrestricted with our selection of tank tops. These sleeveless wonders provide superior breathability, making them ideal for high-intensity workouts. Show off those muscles and focus on your fitness goals without the distraction of excess fabric.
Sleeveless Shirt: Designed for peak performance, our sleeveless shirts offer a perfect balance of comfort and functionality. Featuring moisture-wicking properties, these shirts keep sweat at bay, ensuring you stay dry and comfortable throughout your workouts.
Sleeveless Hoodie: Take your gym style to the next level with our sleeveless hoodies. The ideal choice for those seeking a combination of mobility and fashion-forward design, our sleeveless hoodies provide just the right amount of coverage without hindering your movement.
Sports Hat: Complete your workout ensemble with our sports hats. Shield yourself from the sun and stay focused during outdoor activities. With a snug fit and moisture-wicking fabric, our sports hats are the perfect accessory for every fitness enthusiast.
At Body Phenom, we understand the importance of
performance-driven workout clothes
. That's why we meticulously curate our collection to ensure that each piece meets the highest standards of quality, functionality, and style. Whether you're a seasoned athlete or just starting your fitness journey, our workout clothes for men are designed to inspire and support you every step of the way. Elevate your workouts and unleash your full potential with Body Phenom's premium activewear. Your fitness goals await.
---