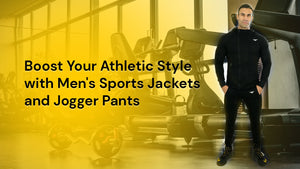 Improve Your Athletic Style with Men's Sports Jackets and Jogger Pants
In the realm of modern activewear, functionality and fashion need not be mutually exclusive. The fusion of style and performance has given rise to a dynamic range of workout attire that seamlessly transitions from the gym to the streets. Among these versatile staples, men's sports jackets and jogger pants stand out as essential components of the active man's wardrobe. In this article, we explore the multifaceted world of men's sports jackets and jogger pants, shedding light on their benefits, styling possibilities, and the perfect occasions to showcase these athletic ensembles.
The Allure of Men's Sports Jackets:
Ultimate Versatility: Men's sports jackets, also known as track jackets, are the epitome of versatility. Whether you're headed for an intense workout session, a casual outing with friends, or even a semi-formal gathering, these jackets effortlessly adapt to any setting.

Functional Fashion: Designed with breathable materials and often featuring moisture-wicking properties, sports jackets keep you comfortable during physical activities. Their lightweight construction ensures that they don't weigh you down during workouts.

Stylish Accents: Many sports jackets feature eye-catching designs and contrasting color combinations, allowing you to make a fashion statement while staying active. They're the perfect fusion of style and functionality.

Layering Magic: Sports jackets are excellent layering pieces. Pair them with a simple tee or tank for a casual look or wear them over a hoodie for added warmth during colder seasons.

Practicality on the Go: Most sports jackets come equipped with pockets, making them convenient for carrying essentials like your phone, keys, or wallet while you're on the move.
Jogger Pants: A Stylish Step Forward:
Supreme Comfort: Jogger pants are celebrated for their comfort. Crafted from soft, stretchy fabrics, they provide unrestricted movement, making them perfect for various physical activities, from running to yoga.

Tailored Fit: Unlike traditional sweatpants, joggers boast a tapered fit that flatters your physique. They offer a modern silhouette without compromising on comfort.

Style Meets Sport: Jogger pants have transcended the gym and are now a fashion statement in their own right. Their sleek design allows you to effortlessly blend sporty and casual aesthetics.

Athletic Performance: Many jogger pants are designed with performance in mind. They feature moisture-wicking technology, breathability, and even reflective elements for nighttime runs.

Year-Round Wear: Joggers are versatile enough to be worn year-round. Pair them with sneakers and a tee for a summery look, or add layers and boots for a winter-friendly ensemble.
Styling Possibilities:
When combining men's sports jackets and jogger pants, the possibilities are endless:
Pair a sleek sports jacket with jogger pants for an urban athleisure look.
Elevate your joggers with a sports jacket and a crisp white shirt for a semi-formal event.
Opt for matching sets to achieve a coordinated, put-together appearance.
Mix and match colors and textures to create unique combinations that reflect your personal style.
In Conclusion:
Men's sports jackets and jogger pants are no longer confined to the realm of sports and fitness. They've evolved into versatile, stylish pieces that enhance your active lifestyle while keeping you fashion-forward. Whether you're hitting the gym, catching up with friends, or heading out for a casual evening, these athletic essentials offer comfort, style, and adaptability in one package. Elevate your athletic wardrobe with sports jackets and jogger pants, and experience the perfect blend of fashion and function.
---