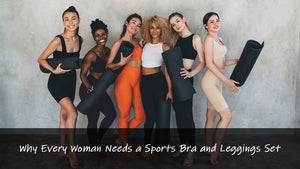 The Perfect Fitness Outfit: Why Every Woman Needs a Sports Bra and Leggings Set
In the world of fitness and activewear, finding the perfect workout outfit can be a game-changer. The right gear can not only enhance your performance but also boost your confidence, making you feel like you can conquer any fitness challenge that comes your way. When it comes to the ultimate fitness ensemble for women, look no further than a well-crafted Sports Bra and Leggings sets.
At BodyPhenom, we understand the significance of this dynamic duo, and we're excited to introduce our collection of Sports Bra and Leggings sets. If you haven't experienced the magic of a perfectly coordinated workout outfit, it's time to explore why every woman should have one in her wardrobe.
Performance Meets Style
One of the most compelling reasons to invest in a Sports Bra and Leggings set is the fusion of performance and style. These sets are carefully designed to provide the utmost support and comfort during your workouts, ensuring that you can move freely without any distractions. With moisture-wicking fabrics and supportive fits, you'll stay dry and comfortable even during intense training sessions.
But here's the kicker – these sets don't just stop at functionality. They're a fashion statement in their own right. Our workout clothes collection at BodyPhenom offers a wide range of colors, patterns, and designs, so you can express your personal style while breaking a sweat. From vibrant and bold to subtle and sophisticated, there's a set for every taste and preference.
The Power of Matched Motivation
There's something undeniably motivating about slipping into a Sports Bra and Leggings set that not only feels great but also looks fantastic. It's like your secret weapon against workout procrastination. When you know you look good, you're more likely to feel good and, in turn, perform better.
The beauty of a matching set is that it instills a sense of purpose and determination. You're not just putting on workout clothes; you're preparing for a journey toward better health and fitness. It's a physical and mental transformation that starts the moment you put on your sports bra and leggings.
Browse Our Collection
If you're ready to embrace the power of a Sports Bra and Leggings set, we invite you to explore our Women's Workout Clothes collection at BodyPhenom. Our sets are thoughtfully curated to cater to a variety of fitness needs, from yoga and pilates to high-intensity interval training and beyond.
Simply visit our Women's Workout Clothes page here and immerse yourself in a world of fitness fashion. Whether you're a seasoned athlete or just beginning your fitness journey, our Sports Bra and Leggings sets can be your trusty companions, helping you achieve your goals and look great while doing it.
Elevate your workout experience, boost your confidence, and stay stylish with the perfect fitness outfit. Embrace the power of the Sports Bra and Leggings set – because you deserve the best, both in performance and style.
---