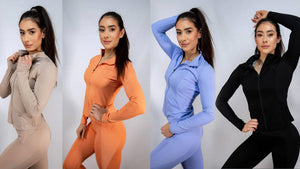 Elevate Your Activewear: The Full-Force Two-Piece Jacket and Leggings Set
In the world of activewear, there's a growing demand for fitness apparel that combines fashion, function, and comfort. Enter the Full-Force Two-Piece Jacket and Leggings Set, a seamless ensemble designed to empower your workout routines while keeping you in style. Available in four stunning colors, this set is taking athleisure to a whole new level.
Unmatched Comfort and Flexibility
The key to a successful workout lies in the comfort and flexibility of your activewear. The Full-Force Set offers an unbeatable combination of both. Its seamless design ensures a smooth, snug fit that feels like a second skin, providing you with the freedom to move effortlessly during your exercise regimen. Whether you're stretching, running, or hitting the gym, this set will remain comfortably in place.
Lightweight Jacket for Layered Versatility
One of the standout features of this set is the lightweight jacket. This piece is perfect for layering, whether you're heading to the gym on a chilly morning or going for a post-workout coffee run. The jacket's breathable fabric ensures that you stay warm without overheating, while its elegant design ensures you look put-together even when you're off the treadmill.
High Waist Leggings for Extra Confidence
The high waist leggings are a game-changer. They offer not only extra support for your core but also a flattering, streamlined look. The high waist design keeps your leggings securely in place, eliminating the need for constant adjustments during your workouts. Additionally, it provides added confidence, so you can focus entirely on achieving your fitness goals.
Available in Four Stunning Colors
Express your style with choices. The Full-Force Set comes in four stunning colors, allowing you to select the one that resonates most with your personal taste. Whether you prefer classic black, subtle gray, vibrant blue, or earthy green, there's a shade for everyone. These colors are designed to complement your existing activewear collection and pair effortlessly with your favorite sneakers.
An Ideal Gift for the Fitness Enthusiast
Looking for the perfect gift for a fitness enthusiast in your life? The Full-Force Two-Piece Jacket and Leggings Set is an excellent choice. Its versatile design and comfortable fit make it a thoughtful present for anyone committed to an active lifestyle. Help your loved ones reach their fitness goals while keeping them stylish and comfortable.
In conclusion, the Full-Force Two-Piece Jacket and Leggings Set is a seamless ensemble that raises the bar for activewear. With unmatched comfort, a versatile jacket, high waist leggings, and a range of stunning colors to choose from, it's designed to enhance your fitness journey. Upgrade your workout wardrobe with this set and enjoy the perfect blend of style and functionality.
Elevate your activewear game today with the Full-Force Set, now available in four fantastic colors.
---